The 43 Best Gambling Movie you must watch
The gambling world has been present in culture for a long time now. It's no surprise that there are dozens of movies out there about it. There are Oscar winning movies, comedies, dramas, and action movies. These films show the ups and downs of gambling, the best and the worst of it. Here are all the best ones.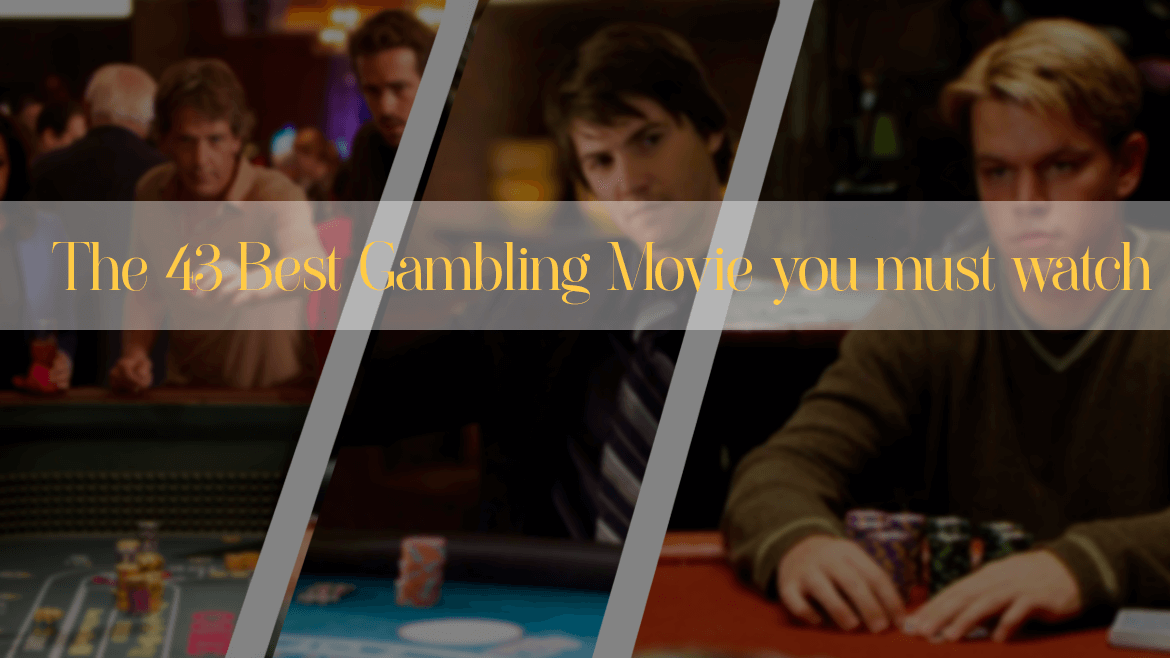 Top 5 gambling movies "fresh"
Out of all the gambling movies out there, these are the best ones released in recent years. We take into consideration the quality of the movie, the critics' opinion, and the way they portray gambling. They are fresh, they are entertaining, and these are our favorite ten.
Uncut Gems (2019)
The most recent gambling movie took Netflix and the world by storm. It stars Adam Sandler in as a charismatic jeweler and taking on a high-stakes gamble. It's a brilliant thriller, full of drama and suspense, and it earned a handful of awards after its release.
Molly's Game (2017)
This movie's star is Jessica Chastain as Molly, a fascinating character that shows us everything about high stakes poker. The director is the Oscar-winner Aaron Sorkin. Here you will get to see how dangerous and glamorous gambling can look when in the hands of powerful people.
Win It All (2017)
Another Netflix gem about gambling. Here, Eddie Garrett is addictive, rushing through the world of gambling and friendship, spending and earning a full bag of money. It's an exciting adventure and, technically, a comedy. But it does touch on important and dark consequences of a gambling addiction.
The House (2017)
This is one of the funniest gambling movies ever. Starring Amy Poehler and Will Ferrell, two of the greatest comedians of recent times. The House is about an everyday couple doing gambling for desperate reasons. The couple disappoints their daughter, open a casino in their basement, and take on a wild ride together.
Mississippi Grind (2015)
Mississippi Grind is a brilliant, dramatic, and melancholy example of casino movies. Ryan Reynolds gives life to the story with his usual charisma. This film keeps the realism of gambling, how tough and addictive it can be. Still, it's something mesmerizing to watch on screen.
33 gambling movies you can find on Netflix
Netflix is the best online platform for streaming movies nowadays. Most of the world is often glued to their screens watching Netflix. If you're interested in gambling movies, Netflix is a great source. Especially because it includes new movies, classics, true stories, comedies, and dark dramas. Here are the best gambling movies on Netflix.
Holy Rollers: The True Story of Card Counting Christians (2011)
Holy Rollers is a brilliant documentary that you can watch on Amazon Prime Video too. It is based on a true story about American Christian gambling experts. It's an unlikely combination, gambling and religion, but this documentary expertly deals with it. It introduces complex people and an even more complicated lifestyle.
Casino Jack (George Hickenlooper, 2010)
Casino Jack, starring the controversial actor Kevin Spacey and directed by George Hickenlooper, is an intense movie about gambling. This is a very interesting movie, for the way it combines comedy, thriller, politics, and gambling. Be warned about a descent into violence.
The Hangover (Todd Phillips, 2009)
This is one of the top hilarious movies of this genre. It follows a group of hungover friends in Las Vegas. They end up involved in completely chaotic adventures. Which, considering its location, obviously includes a lot of gambling action. The movie was so funny and successful it earned two sequels.
21 (2008)
One more true story, this time about the MIT Blackjack Team. This is one of those movies with many stars, but also math, business, and gambling. The impressive cast works together to deliver fantastic performances, which benefits from a brilliant script. It succeeds in showing how complicated the inner workings of gambling truly is.
Lucky You (2007)
Some might argue that Lucky You isn't one of the best movies out there. However, it is an entertaining movie about real gambling stories, with a Hollywood twist. It involves a scandalous affair, family drama and competition, and all set in the backdrop of Las Vegas and competitive Poker.
Casino Royale (Martin Campbell, 2006)
This is one of the best James Bond movies of all time, and it just happens to be all about gambling too. This movie is incredibly smart, thrilling, and it benefits from the brilliant performance of Daniel Craig, Mads Mikkelsen, Eva Green, and Judi Dench. It is a high-budget, good-looking, and totally successful film.
The Last Casino (2004)
This movie is an interesting take on how a professor in debt finds himself a place in a casino. It's an unexpectedly fascinating movie. The professor is a unique character, and he ends up recruiting a couple of students to help him with his plans. Their brilliant minds make take him out of debt, but could also get them in a lot of trouble.
The Cooler (2003)
This is an interesting combination of movie genres. The premise is a gambling addict with an odd job, who suddenly finds himself falling in love. The main character is a recovering gambling addict working with the casino to ruin other people's games. But when he find love in his path everything changes. He has to make big decisions, defeat the obstacles, face the dangers, and all against the clock.
Bookies (2003)
Four young friends start a bookmaking operation and bring this movie to life. This German movie is all about friendship, and fun, but shows a lot about gambling, sports betting, and how that can affect a group of people. The characters, the group of fictional friends, are very unique and likable. Bookies is exciting, and fun, and you'll be on the edge of your seat.
Owning Mahowny (2003)
As exciting and glamorous as gambling may seem, this movie is the opposite. It is an impressive lesson on how dangerously addictive a casino can be. Plus, it is based on the real life story of a Canadian banker. This makes it all the more impactful. It's a dramatic display of the darkness that comes with a gambling addiction.
High Roller: The Stu Ungar Story (A. W. Vidmer, 2003)
This is a hidden gem of casino kind of movies. Also known as "Stuey" it is a biographical movie about Stu Ungar, a famous poker and gin player with a powerful addiction. This one is a realistic and tragic story, it definitely shows the real effects that a gambling addiction leaves on real people, even successful players. Especially on successful players.
The Good Thief (Neil Jordan, 2002)
This movie, starring Nick Nolte, is a great combination of gambling and heist movies. The main character is deep in the dynamics of casinos. But the plot includes some unexpected twists and turns. The protagonist decides to rob a casino, but he has all the odds against him. The police are chasing him, the clock is ticking, and the result is a great movie.
Ocean's Eleven (2001)
George Clooney and Brad Pitt star in this exciting heist and casino movie remake. They recruit a great team of smart and unique characters, completing an iconic cast. Then they pull off a massive heist that, of course, includes an exciting take on casino dynamics. It was so popular that the franchise recently released Ocean's Eight, starring Sandra Bullock, Cate Blanchett, and Sarah Paulson.
Dinner Rush (2000)
This popular movie has a lot of interesting combinations. A successful restaurant, gangsters, family business, bookmarkers, and gambling. It is an unexpected combination but it works. It shows the way a man has to deal with his past, his sins, and his love for his family. While keeping up their restaurant, surviving the mafia, and taking the highest stakes in gambling.
Lock, Stock and Two Smoking Barrels (Guy Ritchie, 1998)
This is one of the top rated movies in the genre. Directed by Guy Ritchie, the main characters are an entrepreneur, a chef, a hustler, and a gambler. This might seem like an odd combination. But the characters compliment themselves greatly. Their unique talents serve to put on a good show and pull of a good gamble.
Croupier (1998)
This movie is about a desperate writer turned croupier. There's a lot of sadness and anxiety, but it's a very exciting depiction of the casino experience. The main character is deeply haunted by his addicion and past choices and mistakes. The film is never boring, and it touches and a lot of serious subjects for people in trouble with gambling.
Rounders (1998)
This one is a fan favorite for gambling addicts. It has one of the best supporting cast, and a starring role for Matt Damon. It's all about poker, the stakes, the talent, the tricks, the ups and downs. The main character shines on screen and the direction creates a fascinating setting.
Fear and Loathing in Las Vegas (1998)
Fear and Loathing are two things that are also related to the American Dream. That's something we can see in this film. Here, a struggling journalist joins forces with his lawyer. Their brilliant minds and troubled lives take them to Las Vegas, following the American Dream down a treacherous path of gambling.
Vegas Vacation (1997)
This one is part of a larger franchise of movies, and isn't exactly the best out of the bunch. However, it really is funny. It takes place in Las Vegas, the city of gambling, so that, obviously, couldn't be avoided in the film. In fact, it includes some hilarious and very honest scenes about what it's like to gamble in that infamous city.
Hard Eight (1996)
This is the debut of the iconic filmmaker Paul Thomas Anderson. It isn't as extravagant as most people have grown to expect from casino movies. It can even be sad, at times, leading the main character through a lot of obstacles. But it's a fascinating movie overall, highly-rated and appreciated by critics and the public alike.
Casino (Martin Scorsese, 1995)
Directed by Martin Scorsese, Casino highlights the performances of Robert De Niro, Joe Pesci, and, of course, Sharon Stone. With such an iconic team of artists, this is obviously one of the most famous and admired movies about casinos. It is a very popular and well-made movie.
Maverick (1994)
Starring Mel Gibson, this movie has its ups and downs. It succeeds in places, but it can be really disappointing in other ways. The best part is probably Jodie Foster in an unlikely role. Still, it's worth recommending and giving it a shot.
Honeymoon in Vegas (Andrew Bergman, 1992)
Sarah Jessica Parker and Nicolás Cage star in this nineties comedy that adds the high stakes of a poker table in Vegas. This is gambling with love. It includes a love triangle, traveling, and all the fun and extravagance of a good romantic comedy from the nineties.
Bugsy (1991)
This Oscar-winning movie isn't about a casino as much as it is about the creation of the whole city. It would be shocking to some people, but this event was led by a gangster. This, of course, makes up for a very interesting plot. It's like an entertaining history lesson about gambling.
Let It Ride (1989)
This isn't one of those brilliant and thoughtful movies but it is definitely entertaining. It is just a fun eighties comedy with a good cast. It's all about joining the main character in a wild ride on betting, gambling, and good luck.
Eight Men Out (1988)
This one, however, is a thoroughly complex movie. It's a historical drama that mixes sports with gambling. It includes a lot of drama and greed. The characters are complex and well-developed. It's an overall success.
Rain Man (1988)
This is one of the highest-rated movies on this list. It earned four Oscars, stars Tom Cruise and Dustin Hoffman, and shows some of the most realistic casino scenes out there. It made history, and became an essential movie in lists like this.
The Color of Money (1986)
This one is a sequel to The Hustler and one of Martin Scorsese's best films. It's another Oscar winner and it mixes gambling with pool. It shows some of the characteristic brilliance of the director. Some people might even prefer this one to the previous movie.
Tricheurs (1984)
Deeply underrated and even more entertaining. This movie follows a gambling addict that won't stop whether he wins or not. That shows a new side to the gambling addiction, and you can't miss it. Plus, there's even the inclusion of a heist.
Atlantic City (1980)
This is a classic movie starring Burt Lancaster and Susan Sarandon. It is about the legalization of gambling in Atlantic City. It's a genuinely great film. film critics have praised the acting, the script, and the directing of the movie.
The Gambler (1974)
This is a thrilling movie from the seventies. The best about this movie and the main character is that he's gambling mostly for the danger. The results are an adventure to watch on screen. It's an iconic movie and one of the most important ones of the entire genre.
California Split (1974)
This is one of the best movies about gambling, and one of the best by its director. It is about gambling, but also about deep friendship. It shows a deep connection between the characters, despite their circumstances.
Top 5 gambling movies (oldest)
Some of the top recommendations for movies that deal with gambling are somewhat old. The following movies were the ones that started all of this. They are history and they remain mostly great movies. These are gems from the fifties, the sixties, and the seventies.
The Sting (1973)
This classic gambling movie is a thrill to watch. It's genuinely fun, it includes horses and card games. It won the Oscar for best picture. That makes is a big part of movie history.
A Big Hand for the Little Lady (1966)
This old movie is deeply entertaining with a beloved ending. It's about an ex-gambler getting in trouble, and his wife finishing the poker game for him. It's fun, well-made, and loved even to this day.
The Cincinnati Kid (1965)
This boyish classic starring Steve McQueen is one of the foundations of gambling movies. Pretty similar to The Hustler, it focuses on the excitement of poker. It's one of those movies that will always be a classic.
The Hustler (1961)
This old classic is another of the movies that started this genre. It is high-quality, the main character is ambitious, and thoroughly fascinating. It is one of those movies that everyone thinks about when talking about classic gambling movies.
Bob le flambeur (1956)
Bob the Gambler, the High Roller, or le Flambeur. This classic gambling and heist movie is about a good character in a desperate scenario. It's the oldest one on the list, but it's well worth a watch. It's almost a required watch for anybody interested in gambling movies.
Related news