Scratch Cards
There are many casinos that feature a wide range of games in addition to the standard table games and video slots. Such games include bingo, keno, and scratch cards. As a regular player, if you haven't tried your hand at scratch cards, then you should give it a chance as you are missing some games that are entertaining and rewarding right under your nose.
The traditional scratch cards allow the players to instantly win rewards that are based on what appears under the scratching surface of the cards. The reason these scratch card games are so popular is that these are easy and affordable to play with the chances to win big with minimal effort and cost.
These games are so easy that you don't need any experience, strategy, or skill to enjoy in order to win big. All you require is voila and a little luck, and you can become the next casino millionaire. As it is a game of chance, therefore, the odds play a huge factor in your winning chances, but keep in mind that different scratch cards have different winning chances.
Play the best scratch cards games here:
What are online scratch cards?
The scratch cards are instant games, and the objective of these scratch games is simple i.e., to match the required number of symbols as indicated on the face of the scratch card ticket to get the associated reward. Normally the players require matching three symbols to activate the payouts.
There is no specialized technique to successfully play these games. The players are normally encouraged to adopt responsible gaming practices with all the online casino games, including scratch cards.
There are several elements featured in each scratch card game that includes a minimum bet, play lines, a maximum bet, Return to Player (RTP), symbols, a unique theme, and the paytable. All the outcomes of scratch card games are determined by the Random Number Generators (RNG). 
RNGs are software programs that are governed by the algorithms to randomize the outcomes of each game. The traditional scratch cards are made of cardboard or paper coated with a plastic-like substance under which the symbols are concealed. Much of the same is true with the online scratch cards, and the only difference is that these cards are scratched virtually.
How to win at scratch cards?
We already know that luck plays a major role in the scratch card games, but there are some things that you can do in order to improve the winning chances. The starters are advised to plan their spending in a proper way, as there is no way to predict the outcome of such games. This obviously means that you will have to make provision for the shortfall and also manage your bankroll properly.
It is better to start with the lower-priced scratch cards as you can get a lot more for your money before you are able to move on to the bigger ones. The more cards you own, the higher your chances of winning are, even if the amounts are smaller.
Another important aspect to understand is to play at an online casino that is known for gaming opportunities of high quality. In this way, you are actually guaranteed to have an entertaining experience in an environment that is safe and secure. At the online casinos, scratch cards are often an overlooked option that requires some attention as it is easy to play, profitable, fun, and is available at both the desktop and mobile platforms.
Scratch cards rules of thumb
Every scratch card player should have an understanding of the rules of play when it is about the scratch card games. Everyone has a limited budget in scratch card games. It does not matter how wealthy you are; you should still have a budget to work with. The scratch cards and lottery tickets are highly alluring. The glam and glitz of some landing combinations of symbols can overpower and also entice you to spend more money then you have to. Keep in mind that the budget is basic when playing the scratch card games online.
What is entertaining about scratch cards?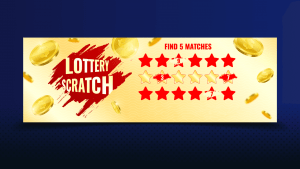 It takes a ticket and some good fortune to come your way. The players don't require learning any complicated betting rules, bet types, or any probability analysis with the scratch cards games to enjoy. There are either no gambling guides or charts required. The purpose of scratch cards is to deliver instant fun.
These cards can be played in between the games of baccarat, online blackjack, roulette games, or slots. These are the ideal stand-alone casino games or perfect in-betweener. For many players, these online scratch games are fulfilling as well as entertaining on many levels.
The players can find themselves playing the Black Tournament scratch game at a click of a button. The players might wish to click manually on each square in order to reveal the beneath symbol or reveal everything with the auto reveal option.
Online and Mobile scratch cards
Online and mobile scratch card games can be enjoyed by scratch card enthusiasts. These scratch card games are available to direct off a browser. A Flash Player is required for these games, and these mimic the action of a physical scratch ticket.
Though the mobile games have some limited screen sizes, these games have been crafted to allow maximum functionality given the real estate of the screen that is available. Both these versions of the online scratch card games are basically indistinguishable from the actual tickets that the players hold in hands.
Auto scratch and autoplay features
Auto scratch
The auto scratch feature is sometimes listed under EXPERT PLAY or OPTIONS, depending on the software. You can choose any card that you like, push the "auto" button in whatever form, and the computer will choose random spaces.
Autoplay
Autoplay is a feature for the more serious players. A player can choose the number of cards, hit PLAY and the game starts going to work. It is ideal for the ones playing in a hurry and is a good option when playing low stakes games.